Cigna: The Ongoing Pursuit of Quality & Value
WellStar Clinical Partners participates in one of 230 Cigna Collaborative Care® arrangements across the United States. The Cigna program supports fully integrated systems like ours, as well as large physician and specialty groups, in achieving ambitious population health goals.
Since joining the Cigna collaborative in June 2018, WellStar Clinical Partners has made steady progress in value-based outcomes. Our strengths include improvements in out of network spend, which is well below the market, advanced imaging per member per month (20% favorable to the market), and ER spend (12% below the market).
WCP chapters have demonstrated improvements within five overall Cigna program metrics: At-Risk/Chronic Condition Population, Behavioral Health, Child Health, Preventative Health, and Patient Experience.
The data suggests areas for improvement within the Coordination/Appropriate Utilization category, specifically low back pain imaging and generic dispensing rates.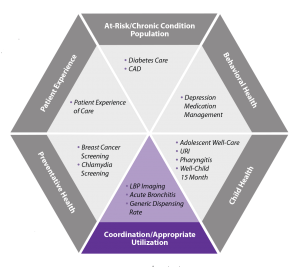 To improve performance in the generic dispensing rates metric, WellStar physicians are requested to consider generic or therapeutically equivalent alternatives when prescribing high-cost brand name drugs. Examples are the generic equivalents of Edarbi (a high blood pressure medication) and Livalo (a statin used to lower triglycerides and cholesterol). As well, physicians are asked to convert Cigna patients with diabetes to OneTouch Strips and glucometers, the preferred brand on the Cigna formulary.
The low back pain imaging metric reflects progress in eliminating imaging studies (i.e. X-ray, MRI or CT) within the first 28 days of diagnosis for patients with uncomplicated low back pain. Rather, physicians are asked to start with conservative therapy, using anti-inflammatory medications and physical therapy.